AMMOLITE
DETAILS OF THE 29ER FULL SUSPENSION CARBON BIKE
We develop high performance bicycles for the most demanding athletes and challenging cycling missions. In order to meet our extremely high quality expectations we offer handmade frames that are exclusively produced in Europe.
Most advanced fabrication methods




Developed in Germany, handmade in Europe




Highly effective suspension kinematics for a safe and fast ride with very efficient power transmission




29er race bike geometry for fast riding on any terrain




Large selection of configurable options to create the ultimate DREAM BIKE
Cross-Country Racing
Marathon Racing
Touring
All Mountain Riding
DESIGN PHILOSOPHIE AND CHARAKTER
The new AMMOLITE full suspension mountain bike was designed for short track XC racing and marathon XCM endurance missions on challenging courses. 115 mm of suspension travel in the front and in the rear as well as the super-light frame weight of just 1.600 g (size medium) provide a faster and safer ride with less fatigue than any hardtail mountain bike could offer. Our Konstructive AMMOLITE Bike is our race rocket, the perfect choice for the performance oriented endurance rider and racer.
FULL CUSTOM DREAM BIKE
AMMOLITE bikes can be individually fitted and constructed to your body measures. The Full Custom Option also entails the fitting of the bike to your individual needs when it comes to ride characteristics. From a race oriented geometry through a comfort oriented geometry all the way to a travel bike geometry for extremely long rides our portfolio offers optimization potentials which are based on bio-mechanic principles.
TECHNICAL DETAILS OF THE PICTURED BIKE
AMMOLITE XX1 EAGLE PRO Bike
Size / Bike weight / Frame weight: Large / 9,5 kg / 1.600 g
Design Style and color: Konstructive Pure Carbon
[table caption="" width="900″ colwidth="100|100″ colalign="left|left|left|left|left"]
DESIGN PHILOSOPHY;
;Modern and optimized monocoque frame from composite materials specific to load
;Frame design with sloping top tube for low frame weight and great handling characteristics
;115 mm suspension travel in the rear, we offer a choice of different shocks for the frame
;Compatible with 100 mm and 120 mm suspension forks with tapered steerer tubes
;"Developed in Berlin; Germany; handmade in Europe"
FRAME WEIGHT;
;Low frame weight. 1.600 g in size medium with no shock
FRAME MATERIAL;
;"Load-specific carbon-layup; T800″
;Durable 6K carbon-layup surface
FEATURES;
;Post-mount disc mount inside of rear triangle for 160mm discs
;Internal shift-cable routing through down-tube. Easy service through service-port in front of the bottom bracket
;Tire clearance for 2.4 inch tires (tested with Schwalbe Nobby Nic tires on 36 mm wide rims)
;Removable derailleur hanger
HEADSET;
;"Tapered head tube from 1 1/8" to 1.5"; fully integrated (Campy style)"
SEATPOST;
;"31,6 mm seatpost diameter; 400 mm length recommended"
;Seatpost clamp with 35 mm diameter
DERAILLEUR;
;1x shifting compatible only
TRANSMISSION;
;"Compatible with 1 speed systems only"
;"Compatible with SRAM XX1; chainring up to 38 teeth"
;73 mm wide BB92 press fit bottom bracket shell
;Rear axle system: Boost 148 mm x 12 mm through axle
COLORS;
;Pure carbon with clear coat for the most robust and lightest surface
;Custom colors are available for our Custom Dream Bikes
SPECIAL FEATURE;
;Konstructive Carbon-frames are completely repairable. In the Konstructive carbon lab we can also repair frames from other manufacturers
[/table]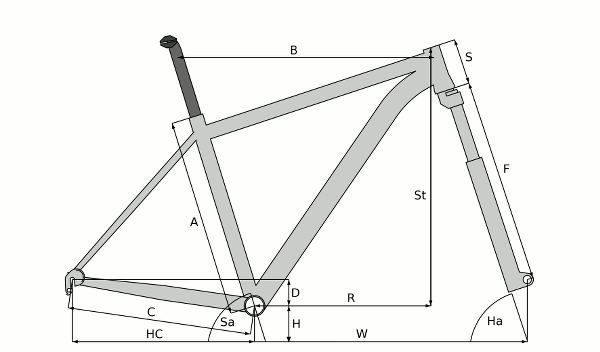 | | | | | |
| --- | --- | --- | --- | --- |
| Frame size | | S | M | L |
| Seat Tube | A | 420 | 440 | 480 |
| Effective Top Tube | B | 580 | 600 | 620 |
| Seat Tube Angle | Sa | 74,5° | 74° | 74° |
| Head Tube Angle | Ha | 70° | 70° | 70° |
| Chainstay Length | C | 445 | 445 | 445 |
| Horizontal Chainstay | HC | 443 | 443 | 443 |
| BB-Drop | D | 39 | 39 | 39 |
| BB-Height | H | 329 | 329 | 329 |
| Head Tube Length | S | 100 | 105 | 115 |
| Fork Length | F | 495 | 495 | 495 |
| Reach | R | 413 | 426 | 444 |
| Stack | St | 594 | 599 | 609 |
| Wheelbase | W | 1108 | 1123 | 1143 |
All measurements in millimetres.
REVOLUTION SPORTS FRAME WARRANTY
Revolution Sports goes beyond the legally required two year warranty and grants the Revolution-Carbon-Warranty of five years for the original owner of the frame. The warranty refers to defects in material and workmanship.
CRASH-REPLACEMENT-WARRANTY
Beyond that warranty, Revolution Sports grants a five year Crash-Replacement-Warranty that gives you the opportunity to have your frame repaired or replaced in the case of a crash. In this case, Revolution Sports will make you an individual offer for the replacement or repair of your frame.
Empty tab. Edit page to add content here.
Ammolite Bike Check Video
Dream Bike Factory
THE THREE PATHS TO YOUR INDIVIDUAL DREAM BIKE
KONSTRUCTIVE CYCLES offers the perfect combination of carefully developed and crafted frames and carefully chosen components from the worlds premium manufacturers. All DREAM BIKES are available in different colors and component specs.
Contact us about the different realization methods. The options are limitless and through our contacts to pretty much all component manufacturers, it is easy for us to make your DREAM BIKE a reality.