KONSTRUCTIVE BIKES SERVICE

PAINT SERVICES
Transform your bike into a Dream Bike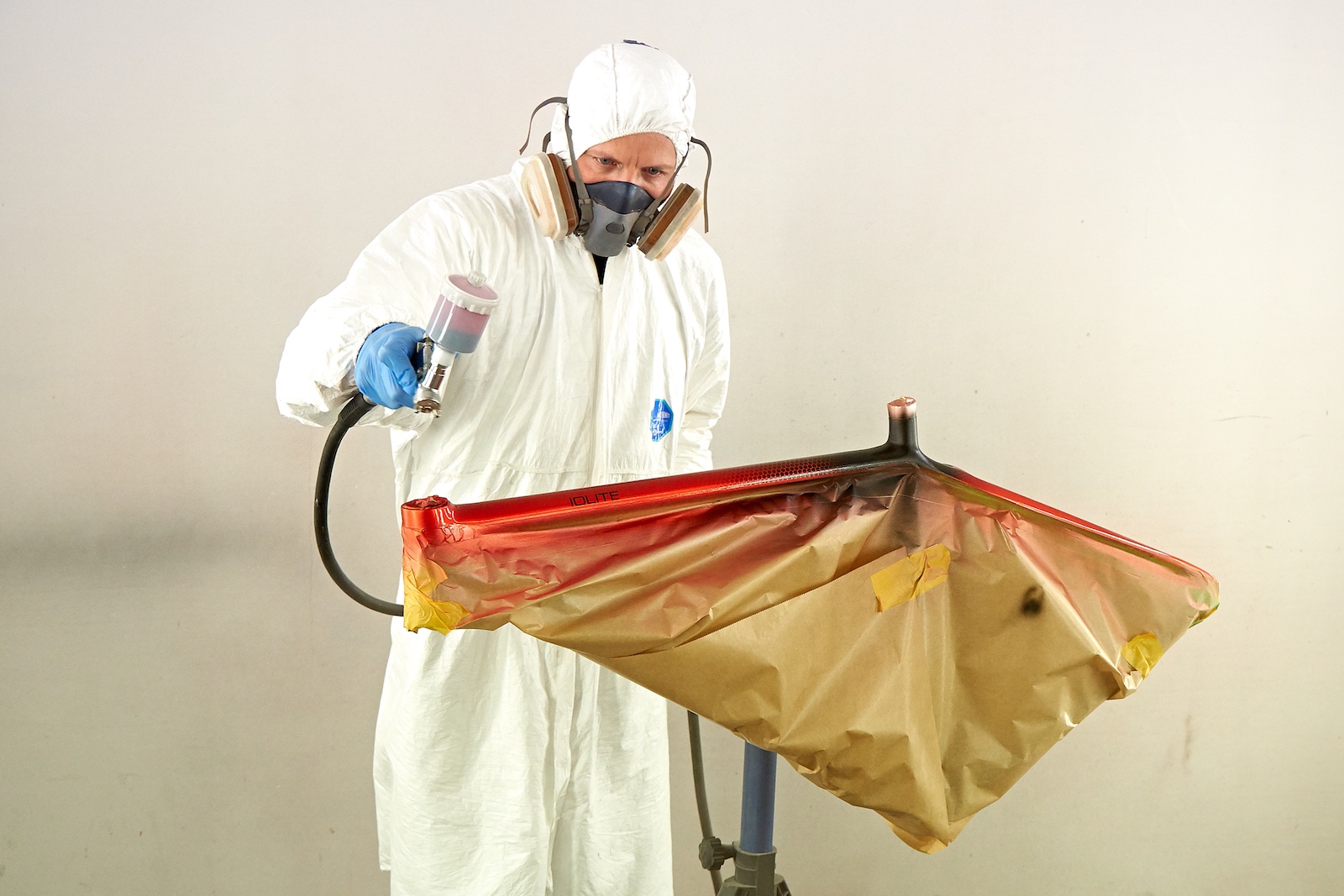 WE PAINT YOUR PERSONAL DREAM BIKE
Konstructive Cycles Berlin will let dreams come true. Bikes, wheels and components of any manufacturer can be individually painted and coated based on your preferences. The sky is the limit.
Individual paint projects
Every project is unique. Based on the frame material, the desired design scheme, the frame's surface condition and preferred colors we will create your paint project quote.
Wet painting service
Wet painting offers the most options and is suitable for any material.  Each project includes the preparation of the part / frame. All projects require a smooth surface as base for new paint. Depending on the material, this includes grinding, glass bead blasting and, if necessary, filling uneven areas with special materials. The painting is then carried out in the so-called wet painting process that is similar to the automotive sector. We offer colors of automobile manufacturers as well as colors with metallic and other special effects. Special designs with glitter elements, candy colors and neon colors have surcharges that are calculated on an individual basis. The price also depends on the number and complexity of graphic designs and logo artwork.
Powder coating service

Powder coating is perfect for single-color coatings on aluminum and steel frames or parts only. When using the powder coating process, there are some limitations in terms of color and design options. Most RAL color codes are usable. Metallic effects are very limited. The color effect can be implemented with a matt, semi-gloss or high-gloss finish. However, graphic design or logo work is not possible with powder coating. If the project requires graphics and logos a combination of painted logos as well as special decals can be used with or without a layer of transparent wet paint.
Disassembling and assembling services

Disassembling/Assembling services will be calculated individually. The fee is based on the bike model and complexity of the required services.
KONSTRUCTIVE PAINT JOBS AND DESIGNS
E-MAIL FORM
We would like to help. Please, contact us any time!
Paint / Design Project Analyses
We would like to ask you to answer the following questions so that we can understand your wishes and create the perfect offer.
1) What material are your frame and fork? Steel, aluminum or carbon fiber?
2) How old are the frame and the fork? What is the surface condition?
3) Which colors would you like to get? Can you provide a RAL color code or any car manufacturer color code?
We can certainly match colors based on items that have been painted already. This takes longer and is more expensive because the process is quite complicated to match the color.
4) Which logos and graphics would you like to get? Can you provide artwork as a digital file (such as vector format eps) We can certainly create graphics and logos for an extra charge.
5) Which color scheme would you like to get?
a) Can you provide photos or drawings of your favourite color scheme? Please, provide sketches, examples or photos with a short description what you are looking for via E-mail to email(bei/at)konstructive.de (E-mail photo sizes <= 500 kb)
b) We can create a color scheme for you. Based on examples or your description, we can work out a color scheme. This will cost a fee based on the development time that it requires.